Retractable Barrier for Parking Decks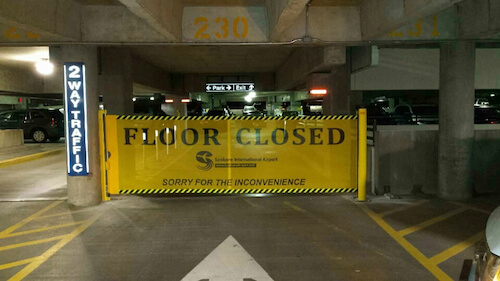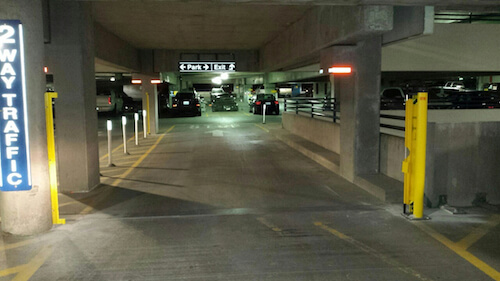 Need to close a parking deck level . . .
Becoming full?
For cleaning?
For maintenance?
Change from access to no access, quickly.
RAMP-BLOCKER™ is easy to extend/easy to retract by one person. Installing RAMP-BLOCKER™ at some entrances will allow you to close off access as needed. Can be used inside or outside.
Easy installation.
Four anchor bolts secure RAMP-BLOCKER™. Two or four bolts anchor the Receiving Hook, choose from 6 styles.
Style 7 Bollard Mount Bracket attaches barrier spring housing to existing bollard.
Barriers 12′ Long are standard, but are available longer.
RAMP-BLOCKER™ spring housing is steel reinforced HDPE extruded safety yellow. Panel is Air-thru (no walk thru) mesh 48″ hi w/8″ sweep. Hi-vis hash/slash ribbon top/bottom both sides.
---
Spring assembly in HDPE steel reinforced housing . . . safety yellow
PVC mesh panel 4′-0″ high, sewn-on hash/slash top-bottom both sides
EZ pull to 12′-0″ accurate retract
(4) anchor bolts for hook and spring housing. Hardware and installation by others
Verbiage / logo per supplied art
Inside or outside use
Details / order desk 336-282-5111 or complete website contact form